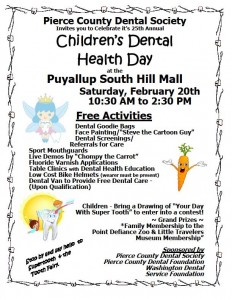 February is Children's Dental Health month…a fabulous time to promote oral health for all kids!
For the 25th year, the Pierce County Dental Society, with help from the Pierce County Dental Foundation and Washington Dental Service Foundation, is hosting Children's Dental Health Day on Saturday, February 20, 2016…open to the community. The Tooth Fairy, Super Tooth and Chompy the Carrot will be joined by Pierce County dentists, Pierce County Oral Health Coalition members and others to offer FREE oral health services, information and resources, kids' drawing contest with prizes plus other valuable and fun activities at the Puyallup South Hill Mall.
Share this event information and the gift of oral health with the families and children in your community!